The flowchart above does a great job outlining where Marqeta sits in the payment ecosystem. They work with leading digital financial technology companies, such as Block (SQ), to help them issue their payments. Consumers using the Cash App solution only interact with Block's front-end, meaning they don't see a Marqeta brand anywhere. However, Marqeta is working in the back-end to enable seamless transactions in the digital payment ecosystem.
Marqeta customers can easily integrate this solution and no longer need to work directly with an issuing bank. At a time when payments are rapidly shifting to online and contactless methods, businesses are looking for fast and highly efficient payment solutions.
One of the biggest benefits of working with Marqeta is the flexibility around card issuance, which can be done through virtual cards, token cards for digital wallets, or even physical cards. This allows a group like Block (formerly known as Square) to immediately issue cards so their consumers can start spending right away. The table above outlines several benefits of Marqeta's solution, which essentially enables digital-focused and digital-native customers to facilitate payments.
While Marqeta remains in the growth phase of its lifecycle, they have a large concentration of customers with Block. At the end of the third quarter, Block accounted for 68% of Marqeta's revenue, and while this concentration has diminished over time as new customers grow, it remains a risk factor that investors should continue to monitor. For example, total processing volume through Q3-2021 grew 77% YoY for Marqeta's top 5 customers, which compares to POS growth of 225% YoY for customers outside of the top 5.

Marqeta provides the back-end for many parts of Block's business, including their Cash App consumer platform and the Square Seller ecosystem. Essentially, Marqeta simplifies sending/accepting payments for Block consumers and merchants. Given Block's growth rate over the past few years, it's no surprise that Marqeta's growth has remained very strong.
Financial analysis
During the company's third quarter, they reported POS growth of 60% year-over-year to $27.6 billion and revenue growth of 56% year-over-year to $131.5 million. As mentioned above, growth continues to be very strong given their high concentration of customers with Block (which has also grown very rapidly) and the continued ramp-up of new customers. While these growth rates are unlikely to be sustainable over time, it demonstrates that Marqeta's solutions are desired in the market.
Gross margins have remained fairly consistent around 40-45% for the past several quarters and while there may be some room for continued margin expansion, I don't think the company is in a rush for it. Right now, their focus will continue to be to invest for growth and scale the business.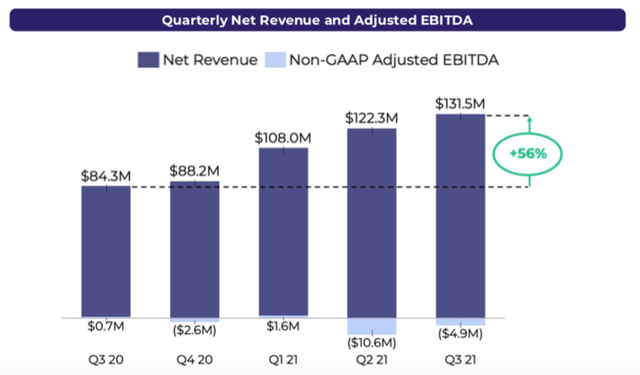 However, I believe that over time, investors will focus more on Adjusted EBITDA profitability. Yes, investments for growth are paying off in terms of GPV and revenue growth, but ultimately the scale of the business will need to drive profitability. Over time, I'm confident the business can make a good profit, but when looking at a rule score of 40, Marqeta comes in at 52, with Adjusted EBITDA lowering that score. I also believe that as profitability improves, if Marqeta is able to sustain revenue growth above 30%, investors might be willing to be a higher multiple for the business.
More recently, the company announced a new chief financial officer and raised expectations for the fourth quarter outlook. Their incoming CFO, Mike Milotich, comes from a 10+ year tenure at Visa. Current Marqeta CFO Tripp Faix has decided to step down to spend more time with his family. Yes, it can be a bit of a red flag when the CFO leaves a fast growing company after just 3.5 years, however, I think the company's management team remains strong.
Additionally, Marqeta announced that it expects to exceed its previously announced fourth quarter guidance for net revenue and adjusted EBITDA, driven by higher than expected processing volumes. During the third quarter earnings call, the company spoke of continued strength in the buy-now, pay-later and digital banking businesses.
Our fourth quarter revenue forecast reflects continued strength in the BNPL and digital banking sectors which we believe will be particularly strong due to consumer spending and consumer financing of their holiday purchases. .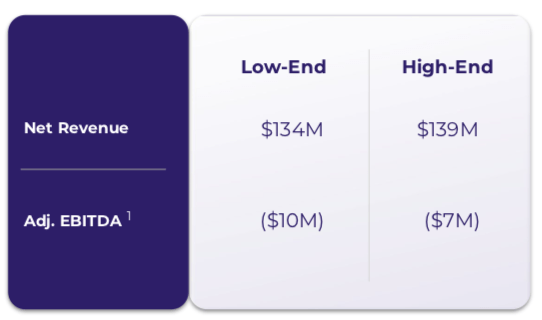 While updated numbers weren't provided, the chart above illustrates the company's fourth quarter guidance that was provided in the last earnings call. Given the strong volumes seen by buy-it-now, pay-later and digital banking platforms throughout the holiday shopping season, it wouldn't be too surprising to see revenue approaching $145 million and the Adjusted EBITDA approaching a few million of breakeven.
Evaluation
While the company's shares are down about 65% from all-time highs, underlying business momentum has remained strong. The main reason for the pullback has been the rotation of names of high-value growth stocks over the past few months. With valuations reaching quite egregious levels, it's no surprise that investors wanted to take money off the table.
Nonetheless, I believe that Marqeta's growth opportunities, both with existing and new customers, should give long-term investors confidence.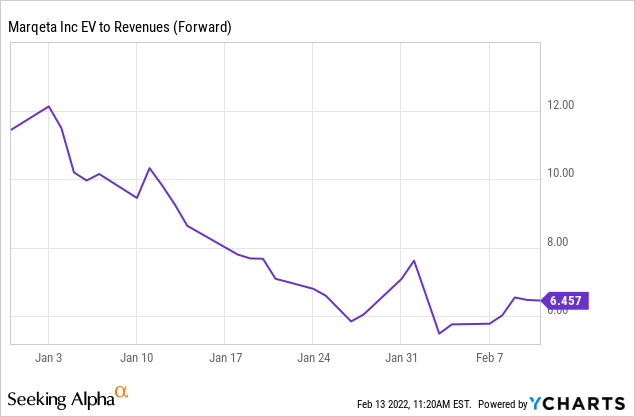 The company currently has a market capitalization of around $6 billion and with net cash of around $1.7 billion, this implies an enterprise value of around $4.3 billion. Currently, according to Yahoo Finance, the consensus is expecting $660 million in revenue in 2022, which I think is conservative given that the company just said it expects revenue and fourth quarter adjusted EBITDA exceeded their previous guidance.
Given the company's conservative guidance history, I think $675-700 million could ultimately be 2022 revenue, which could imply a current valuation of around 6x 2022 revenue. Yes , this remains a somewhat expensive multiple to pay for a company without profitability. But strong revenue growth, 40-45% gross margin, and the ability to scale with reduced costs give me confidence that profitability is only a matter of time.
For now, I think long-term investors should look to build a position in the stock. Fourth-quarter earnings are just weeks away, and management could provide strong guidance on 2022 guidance, which could end up bringing the stock closer to $20 over the next year.